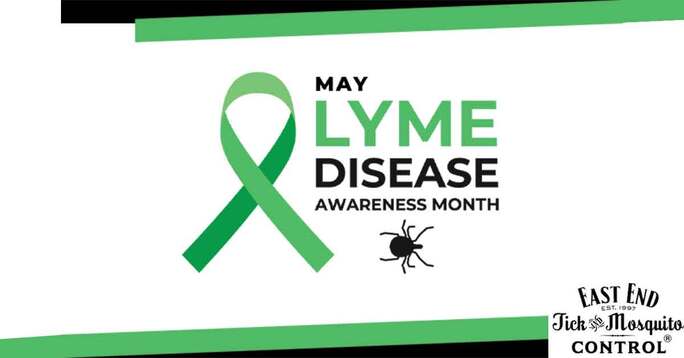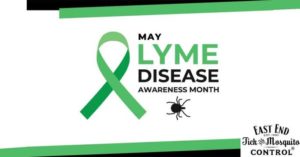 Summer is weeks away, and as Long Island residents prepare for the busy season and warmer days ahead, it is also time to prepare for tick season. Specifically, it is time to focus on the fact that May is Lyme Disease Awareness Month. Scientists are predicting a hectic year with an increase in ticks. Doctors believe that COVID-19 could lead to more people being infected with tick-borne illnesses because the urge to go outside being stronger than ever.
According to the Center for Disease Control and Prevention (CDC), approximately 30,000 cases of Lyme disease are reported in the United States, and an estimated 300,000 people are diagnosed annually. Studies show that 20-50% of the ticks on the East End of Long Island are infected with Lyme disease, and 70% of all people who are diagnosed are bitten in their own yard! Brian Kelly, local tick control expert and owner of East End Tick & Mosquito Control® has put together a list of quick tips for Long Islanders to read before venturing into the great outdoors to help limit the risk of contracting a tick-related illness. These tips are listed below:
To control ticks on your property, have your property sprayed for ticks monthly between the months of April and November. Spraying for ticks will greatly reduce the tick population on your property. However, completely controlling ticks is next to impossible.
Tick encounters are happening just about everywhere! Always use a repellent when going outdoors and always check yourself afterward.
Pro tip: Have someone else check your back and areas you cannot see.
Put a fence around your yard to help keep deer and other animals that can carry ticks, out of your yard.
Keep your pets confined to your lawn and never allow them to enter the woods. In addition, use a tick repellent that is recommended by your veterinarian. If you travel with your pet, make sure you check them very carefully afterward.
Teach your kids about the dangers of going into the woods and uncharted territory. Get them into the routine of checking themselves after being outdoors, but always check them yourselves afterward in case they missed a spot.
The Tick-Borne Disease Resource Center at Southampton Hospital offers free tick removal kits. Pick one up and learn how to properly remove a tick. Always keep it handy.
Keep your grass cut short and do not overwater your plants and shrubs! This is because ticks are attracted to long grass and cool damp areas.
Ivy and other sorts of plants on the ground are tick hot spots, so always avoid them.
As part of your spring yard clean-up, eliminate tick habitats by removing leaves that have blown into your yard's edges and under shady vegetation.
Perform tick checks twice a day. Do it once at night and then again the following morning.
Tuck your pants into your socks and spray your skin and clothing with tick repellent before going outdoors.
When coming in from the outdoors, put your clothes in the dryer and on high heat for at least 15 minutes.
If you believe you were bitten by a tick, keep an eye out for the early-stage symptoms of Lyme disease. Early-stage symptoms of Lyme disease can include a "bull's eye rash", but the appearance of this rash occurs less than 50% of the time in those infected with Lyme disease. Ticks can transmit more than one disease to humans which can result in coinfections with Lyme disease, such as babesiosis and ehrlichiosis. Signs and symptoms can occur three to thirty days after getting bit by a tick, and these symptoms can include flu-like symptoms such as fatigue, fever, chills, headache, muscle aches, joint pain, and swollen glands. If a rash does appear, it may not always have a classic "bull's eye" appearance and can even appear as a bruise in individuals with darker skin.
If Lyme disease is missed, later signs and symptoms can occur weeks to months after the tick bite occurred, and these symptoms can include headaches, neck stiffness, arthritis pain with swelling of a knee or other large joints, heart palpitations, and debilitating fatigue.
Tick control expert Brian Kelly believes that "prevention is better than a cure" and takes a proactive approach to tick safety. "The risk of contracting a tick-borne illness, such as Lyme disease, becomes progressively worse year after year. Get yourself and your family into the habit of practicing tick safety, and if you find a tick on yourself or a family member and experience any symptoms, contact a physician immediately!"
If you are looking for a tick control company for your property, contact East End Tick Control®. Call at 631-287-9700 or get a free estimate today!