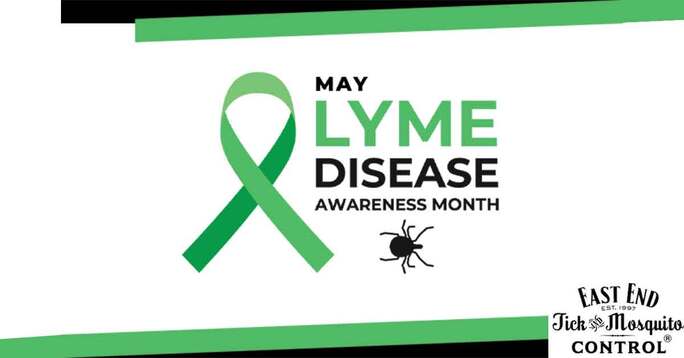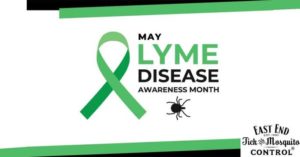 May is Lyme Disease Awareness Month, and as professional tick experts, we know how important it is to be informed about this tick-borne disease. This is because WordHampton.com reports that about 20% to 50% of ticks in the East End area of Long Island carry Lyme disease! Fortunately, East End Tick Control® specializes in the removal of ticks from your property because we know that ticks are not only annoying, but they can also be dangerous to you and your family's health.
Since we have been indoors for so long, it is natural to feel the urge to go back outside and enjoy the warm weather. However, some doctors have voiced their concerns that the influx of people going outdoors could spike an increase in Lyme disease cases. For this reason, we have written an informative yet condensed blog for you to better understand Lyme disease. Read on to learn and share with your friends and family to spread the knowledge!
Origin
The name "Lyme disease" came from the location of the first cases of Lyme disease in a small town called Lyme, Connecticut. These cases took place in 1975 when a woman notified Yale researchers about "a cluster of pediatric arthritis cases", explains DHSS.Delaware.gov. From 1977 to 1979, the Yale researchers changed the name of the disease from Lyme arthritis to Lyme disease once new symptoms were discovered. Finally, in 1982, a doctor by the name of Dr. Willy Burgdorfer uncovered that the cause of Lyme disease was a spirochete. This infectious agent was named after him, and we now know that spirochete to be called Borrelia burgdorferi.
Cause
Lyme disease is caused by the spirochete bacteria Borrelia. Specifically, the Lyme disease cases in the United States are caused by Borrelia burgdorferi and Borrelia mayonii. MayoClinic.org informs us that these bacteria are transmitted when an infected black-legged tick, also known as a deer tick, bites through the skin. The chance of getting bit by an infected tick increases when you are in densely wooded or grassy areas.
Symptoms
Lyme disease can present itself in multiple ways in different people. As stated by Healthline.com, the most common symptoms include fever, muscle aches, fatigue, joint pain, and the signature circular bulls-eye rash that can appear at the site of where the tick bite occurred. This rash could appear as "a raised rash, a flat rash, or even blisters". If you see this bull's-eye rash anywhere on your body, see your doctor as soon as possible to start treatment or risk experiencing more serious complications, such as heart disorders, meningitis, and even miscarriages.
Treatment
Lyme disease is caused by bacteria, so treatment requires antibiotics. To treat early stages of Lyme disease, the appropriate antibiotics include Doxycycline, Amoxicillin, or Cefuroxime, states CDC.gov. Those who are receiving these antibiotics are instructed to take them anywhere from 10 to 14 days. Treatment of later stages of Lyme disease where it has spread further in the body can require taking antibiotics for longer than 14 days and may even involve intravenous antibiotic treatment.
East End Tick Control Can Help Protect You From Lyme Disease
East End Tick Control® has the expertise and years of experience to eliminate ticks from your property with both traditional and organic products. Eradicating the tick population surrounding your Suffolk County home will greatly reduce the chance of you or your loved ones getting Lyme disease in your own environment. You should be able to freely spend time outside in your own backyard without ticks threatening your health or peace of mind. Contact us today to start enjoying spring to the fullest!