Premier Tick Control and Mosquito Spraying in Moriches, NY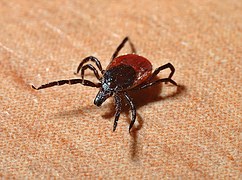 During the spring, summer, and early fall, ticks and mosquitos can become a huge problem for your home in Moriches, East Moriches, Center Moriches, or Eastport. Fortunately, East End Tick Control® are experts in removing ticks and mosquitos from your yard.
Looking to have a party at your home? Our yard spraying will help get rid of flying pests. Our team of experts uses the safest and most effective practices of removing ticks and mosquitos. In addition to traditional tick and mosquito removal methods, our professionals can also use organic methods of exterminating these pests. We're happy to say that these methods are totally safe to use around your family and pets. As Long Island's leading exterminator, East End Tick Control® is ready to help you enjoy your yard once again.
Whether you live up by Sunrise Highway, down near the Great South Bay, or anywhere in between, East End Tick Control® can effectively remove the ticks and mosquitos from your yard.



Due to our credentials, East End Tick Control® is licensed and insured by the Department of Environmental Conservation. Our sprays will not only remove these pests from your yard but they will make sure they won't return. East End Tick Control® offers a granular tick control treatment which kills ticks as they hatch and emerge from woodpiles, shrub beds, and other piles of leaves and debris. Since ticks continue to emerge and prevent a threat in mild winter temperatures, this treatment is ideal for families with pets and children.
Don't wait any longer to get rid of your ticks and mosquitos. Protect your yard and your family from these bugs today. Call us at (631) 287-9700 or fill out our contact form.