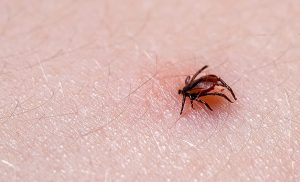 Are ticks active in winter?
It's winter here on Long Island and while the amount of bugs we see regularly dwindles in the wintertime we know they will be back once springtime rolls around again. While it is usually bitterly cold outside there can be warm periods in the winter where the temperature can get above even 60 degrees Fahrenheit. This is a great time to go outside and enjoy a brief intermission from the cold and get a little taste of spring with the added bonus of there being no ticks, mosquitoes, or other disease-carrying bugs to worry about. Except that may not be entirely true.
While mosquitoes are usually dormant until April for Long Island, some species of ticks are active all year round. According to the Tick Encounter Resource Board, "Blacklegged (deer) ticks can remain active in their adult stage from fall to spring as long as the temperature is above freezing." Deer ticks are one of the most common tick species on Long Island so this is important information for residents of the east end of Long Island. Deer ticks are also one of the most common hosts of Lyme Disease. A recent study found that around 60% of deer ticks in the North East of the United States are carriers of Lyme Disease. This means that there is still a chance of getting lyme disease if you are outside in the wintertime. If you go outside on a warmer day in winter be sure to take the same precautions you'd normally take and check yourself for ticks.

Does frost or snow kill ticks?
While one typically doesn't see bugs when there is snow on the ground, it doesn't mean they are not around. While some bugs die off in the winter after laying their eggs, ticks are one type of bug that survives the cold weather. As we have already covered there are some species of ticks that lie dormant during the colder months. They do this by hiding in the undergrowth and leaves in wooded areas. While one might think that a cold layer of snow on top of the leaves would kill off these ticks as they are cold-blooded, the snow actually only serves to insulate the ticks from the outside air. Some species of ticks actually burrow underground.
How can I prevent being bitten by a tick in the winter?
The same precautions used in the summer should also be used in the wintertime as well. If you are going outside, be sure to spray some tick repellent bug spray on you and take note of how many hours of protection it provides. Long, and preferably light-colored clothes with little entries for ticks to get to exposed skin is also a good idea. Another good idea would be to check yourself for ticks after being outside, or better yet have someone else check you. Be sure to check every part of your body including the often forgotten scalp and inside of ears. Of course, having regular tick control spraying on your property once a month will also decrease the chances of a tick biting you or a loved one.
For any other questions regarding ticks in the winter time, or to get tick control services for your property, be sure to contact East End Tick Control® at one of the following phone numbers. For those living near Southampton, please call (631) 287-9700. If you are closer to East Hampton, please call (631) 324-9700. And if you reside near Southold, please call (631) 765-9700. You can always email us as well. We look forward to hearing from you!