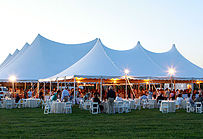 The day you've been dreaming of since you're a little girl is almost here. You searched and found the perfect venue and dress, and everything is starting to come together, but there could be one important detail you're forgetting – pest control services. Before you cross everything off your check list, remember to keep the bugs at bay, or they could ruin your big day!
East End Tick & Mosquito Control® has been protecting the bride, groom, and all their guests from ticks, mosquitos, gnats, chiggers, and other bothersome bugs for over 20 years. Protect yourself, your family, and your party guests with a safe and effective property spraying. The East End Tick & Mosquito Control® team uses the most effective, environmentally responsible solutions available so that your event is bug-free. There are no toxic chemicals used, just natural oils and the odor will disappear in just 30 minutes.
How To Protect Guests From Mosquitos, Ticks, and Other Pests
Surround the property with citronella candles and torches.
Request that the venue cut back on watering the property a few days before the event.
Request that the venue keep the grass on the grounds cut short.
Have East End Tick & Mosquito Control® come to inspect the grounds prior to the event to be sure the space is tick-free.
Have bug spray available at the event for guests to use.
Planning an event can be stressful enough, mosquitos, ticks, and other bugs should be the least of your worries. Whether it's a wedding, party, or special event, our spray is perfect for any event that lasts a few hours.
To schedule your yard spray or to get a free estimate, give the experts at East End Tick Control® a call today. For those living near Southampton, please call (631) 287-9700. If you are closer to East Hampton, please call (631) 324-9700. And if you reside near Southold, please call (631) 765-9700. You can always email us as well.