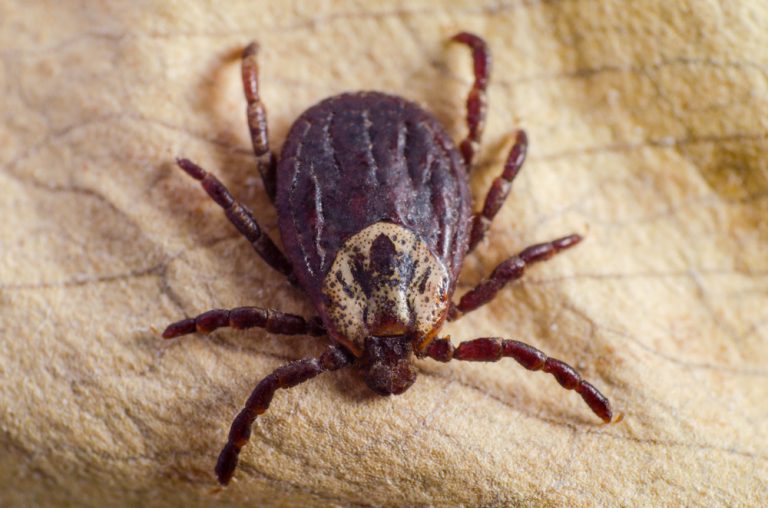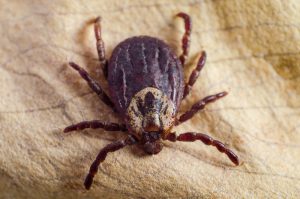 Long Island Tick Behavior
One would think that something as tiny as a tick would not survive freezing cold temperatures under the snow. But actually, they are still alive, lurking, hidden in the leaves, beneath the bushes, conserving energy, waiting for the temperatures to rise. And now, here they come (insert ominous impending shark attack theme here)! Actually, ticks are predatory creatures like sharks – only just a wee bit smaller. What attracts a tick?
Many people think that what attracts ticks is the smell of blood, like a shark. This is actually untrue! Although ticks do drink blood, they are actually attracted by these three things: heat, CO2 – carbon dioxide (what you breathe out) and CO – carbon monoxide (what your car exhaust "breathes out"). This is why the overgrown edges of a parking lot can be a common tick habitat with the combination of heat, carbon dioxide, and carbon monoxide present.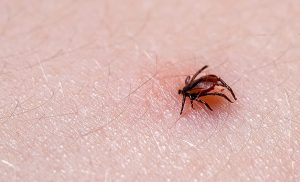 How to Avoid Being Bitten by a Tick
Ticks are quite hardy little creatures who can survive in very hot and very cold temperatures. You may be wondering how to kill a tick if you find one. Ticks die via two causes: suffocation (they run out of air) & desiccation (they dry out). So while they will generally stay away from the hot concrete in the middle of a parking lot, here are some common tick habitats to be aware of:
Grass/bushes/shrubs near the periphery of a parking lot,
Tall grass at the beach
Edges of nature and hiking trails
Leaf/mulch piles at the edge of your yard
The ticks will burrow down to the bottom of the foliage, hydrate, and then crawl up and hang on the edge of the plant in a behavior called "questing." So be careful as you are packing up to leave the park or the beach this spring, your leg might inadvertently brush against a plant hosting a questing tick, and that's it: the tick latches on to you and begins to climb in search of a warm spot to begin its meal.
Besides spraying your shoes with a tick repellent (we recommend Permethrin products), the best thing a person can keep handy during tick season is duct tape. Which is not only cheap but very effective! If you find a tick and want to kill it, the most efficient way is to get some good sticky tape and suffocate the tick in between two pieces.
Ticks and Lyme Disease on Long Island
Here on Long Island, we host several species of hard-shell ticks: deer ticks, lone star ticks, and dog ticks.  Believe it or not, the good news about this is that hard-shell ticks only feed 3 times in a lifetime, at each "instar" which means when they have a change of life: from a baby tick (larvae) to a teenager tick (nymph) to an adult tick (adult), they will take in a blood meal.
In other US states, there are soft shell ticks that will feed-and-fall-off-and-feed-again. Since ticks are the "dirty needles of nature", you can quickly see why soft shell ticks are a bit more problematic than the hard-shell ticks. However, our local hard shell ticks can carry quite a few illnesses and are not to be taken lightly. There are currently studies underway to determine what percentage of our local ticks are packing serious germs in their guts. Not all ticks carry pathogens! It is truly the luck of the draw when you are bitten by one. One of the most common pathogens found in the deer ticks here on Long Island is a spirochete named "Borrelia Burgdorferi." This germ is the cause of Lyme disease.
To help prevent the chance contracting of Lyme disease or other tick-borne illnesses, contact the licensed, experienced tick extermination experts at East End Tick Control®. For homeowners living near Southampton, please call (631) 287-9700. If your home is closer to East Hampton, please call (631) 324-9700. And if you reside near Southold, please call us at (631) 765-9700. You can also email us as well. We look forward to hearing from you!