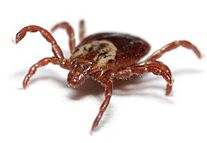 Warmer days are behind us, but ticks remain active through the end of November and fall is adult tick season! In the fall, ticks are actively looking to feed before the cooler winter months arrive to help them survive into the spring season. According to the Tick Encounter Resource Center, the adult stage deer tick actually begins its feeding activity around about the time of the first frost (early October) and it will latch onto any larger host on days that the temperature is near or above freezing. "It's crucial to continue taking preventative measures and checking for ticks because they are still active and in search of a blood meal into mid-November," said Kelly.
Despite the cooler months, ticks are still able to detect the carbon dioxide that is being released from the warm-blooded animals and humans. After a tick feeds on a host, female adults lay their eggs underneath leaf litter and in the spring and summer months, the eggs will hatch resulting in the start of a new tick population.
Prevent New Tick Populations from Hatching
To help prevent this issue, tick expert Brian Kelly suggests spraying in the fall months to help kill existing adult ticks and to prevent a new batch of ticks that would hatch at the start of spring 2020.
Spraying is critical to help in reducing next year's tick population because even if we have a cold winter, ticks will NOT be killed and remain active whenever temperatures are above 40 degrees.
Kelly also shared the following tips and tricks to help prevent tick nesting in the fall season:
Reduce leaf litter, brush, and weeds at the edge of the lawn and around the house.
Cut grass short and regularly.
Remove brush and leaves around stonewalls and woodpiles.
Use wood chips to help keep the buffer zone free of plants and restrict tick migration.
Trim tree branches to let in more sunlight.
Don't waste any time, schedule your fall yard sprays today by calling (631) 287-9700 today!